This will be the most comprehensive modern tutorial for beginners on how to design a WordPress website for free with theme and plugin package added.
The process of learning how to design your own website is detailed.
I will need your complete attention in this WordPress tutorial specially written for beginners.
If you follow this complete guide on how to design a website with WordPress, you will not have to pay another web designer again.
Process On How to Design a Website With WordPress
There are three major processes you need to follow in order to start learning how to build your own WordPress website for free.
Domain Name
A Fast Website Hosting Company
Complete attention to follow the guide on how to design your own WordPress website free with tips and tricks to follow in this tutorial for all beginners.
Domain Name
A domain name represents the address of your website. People have to put an address in their web browsers to access the desired page.
Furthermore, different websites sell domains, but I will be reviewing a recommended website to get all you need before you start to design your own WordPress website free.
Website Hosting Company
These are companies that give access to individual domains accessibility to the world wide web.
Choosing the right a web hosting company is extremely important if you want to rank good on search engines like Google, Bing, Yahoo, Yandex, etc.
So, let us dive right into how you start the learning process of designing your own WordPress website from the beginning.
The process will involve the following.
How to buy a cheap domain for less than $1
Hosting your website on a fast web hosting company
Installing your WordPress website
General WordPress set up and settings
Setting User Profile
How to Create and Page on WordPress
How to Add Theme
How to Brand and Customize Your WordPress website with Plugins
Optimizing Your Website with Search Engine Optimization
Are you Ready? Let us start
Domain Registration For Your WordPress Website
Many WordPress beginners have issues for choosing the right domain name or which domain registration company is the best.
A domain name is the letters typed by clients to reach your website.
A good example of a domain name is www.afrikaquality.com
How Much Is Domain Registration?
In this guide, I also want to save you a lot of cash while learning for free to build your WordPress website from scratch.
Let me introduce you to this wonderful domain registration and web hosting company called Namecheap. I will talk more about the hosting as the post continue.
A domain registration starts from $1 with Namecheap but it excludes .com to .org to .co.uk
More thing to be excited about is the Namecheap combo option on their promo page. If you are a new subscriber or you have been on the platform, you can scroll down to the promo to get web hosting service + free domain registration.
The following step should help you purchase a domain on Namecheap.
Step One
Navigate to Namecheap website by clicking here.
Step Two
Scroll down to the promo page.
Upon getting to the page, you will find several promotion going on for new and old Namecheap customers.
If you are looking for a cheap website domain, click on the $0.99 per year cheap domain. It is important to know other domains like .com. .net, .org, .co, .ng, .eu and many more which are more expensive.
This WordPress tutorial on how to build or design a WordPress website is for beginners who might be struggling to invest a good amount but still want a quality job done.
Furthermore, after clicking on the link, you will be directed to a page where all the 99 cent domains are listed.
Choose the right domain for yourself or simple continue to check on other by clicking on "Discover all 99 Cent Domain."
In order not to overspend after one year, be careful about the renewal of the 99 cent domain you are likely to choose.
Step Three
Type in a domain name of your choice, add to cart if available and proceed.
If you are not sure about the domain you are about to choose, scroll down on the same page, you will discover the domain information.
Step Four
As a new client on the website, you will be redirected to a checkout page.
The following should be changed or checked before making payment.
The domain registration will show up 2 years, so, change it to 1 year only.
Enable WHOisGuard and its completely free.
While writing this post on how to create a WordPress website for beginners completely free, the Premium DNS on Namecheap is currently free, but the renewal is $4.88 per year. In my opinion, take the Promo now!!!
Other upsell of Website Builder, SSL Certificate, VPN, Professional e-mail with hosting packages will be presented to you. As a beginner, I think its alright to just move on from all the upsell till you conclude on which hosting package you would like to host your domain on.
Step Five
The next step is to click on the confirm order, create an account and make payment.
After order confirmation, you will be asked for your payment details.
Namecheap have multiple ways to receive money from clients all over the world. This process makes it extremely simple buy domain and hosting with other packages from Namecheap.
Lastly, click "Pay Now," and wait a few minutes to receive a confirmation to your own domain.
Hosting Your WordPress Website
I host my websites with Namecheap. If you are new and are just starting with your first WordPress website as a beginner, this is the best web hosting company that will give you all the 24 hours support you to start up your own website from scratch.
Hosting Packages on Namecheap
There are several hosting packages rolled out by Namecheap for beginners and experts alike.
The web hosting company you the following plan.
Shared Hosting
WordPress Hosting
Reseller Hosting
Email Hosting
Dedicated Server Hosting
VPS Hosting
In this WordPress tutorial on how to design your own WordPress website for free, I will only discuss the shared hosting and WordPress hosting package.
Namecheap Shared Hosting
Namecheap also offers fantastic hosting service for your website domain registration.
This is the best option for a beginner who wants to create the very first WordPress website.
The hosting company offers three plans for customers interested in shared hosting.
Namecheap Stellar
Stellar Plus
Stellar Business
| | | |
| --- | --- | --- |
| Monthly | 1 Year | 2 Years |
| Stellar | Stellar Plus | Stellar Business |
| $2.88 | $1.58 = $18.44 | $4.80 = $57.88 |
| 20GB SSD | Unmetered SSD | 50GB SSD |
| 3 Websites | Unlimited Websites | Unlimited Websites |
| Free domain Registration (Selected Domains Only) | Free Domain Name (Discount on Selected Domain) | Free Domain (Discount on Selected Domain) |
| No Backup | Automatic Backup | Automatic Back up and Cloud Storage |
| Free SSL | Free SSL | Free SSL |
| No CDN | Free CDN | Free CDN |
| Free Website Builder | Free Website Builder | Free Website Builder |
| 24/7 Support, Knowledge base and Live Chat | 24/7 Support, Knowledge base and Live Chat | 24/7 Support, Knowledge base and Live Chat |
| WordPress cPanel | WordPress cPanel | WordPress cPanel |
| 100% Uptime | 100% Uptime | 100% Uptime |
| 3 Hosted Domains | Unlimited Hosted Domains | Unlimited Hosted Domains |
| 30 Sub-domains | Unlimited Sub-domains | Unlimited sub-domains |
Stellar Hosting Packages
If you are a beginner, the recommended hosting package for you is the "STELLAR SHARED HOSTING PACKAGE."
It is important to save if you are learning how to create your own blog, business, or niche website.
The stellar hosting package is cheaper if you pay per year, but making a monthly payment is also very cheap compared to other hosting company and what they offer.
All the three shared hosting packages come with free Secure Socket Layer (SSL), but Stellar package does not include Content Delivery Network (CDN).
There are numerous tools online that will provide you with CDN, but the only free and trusted CDN for your website is "Cloudflare."
If you are reading this article and your hosting company did not include SSL certificate for you, well, you can get it for free using this WordPress plugin called, Really Simple SSL Pro.
Also, you can use other Namecheap products like VPN and customize E-mail for free.
Easy WP Hosting Package
Namecheap EasyWP is the fastest around the world, and it is very affordable.
In terms of loaded times, first byte and price, Namecheap EasyWP is the best.
| | | |
| --- | --- | --- |
| Fully Loaded Time | Time to First Byte | Price Per Month |
| Easy WP | 0.7 seconds | 192 milliseconds $1.00 per month (Promo) $3.88 after (Promo) |
| Kinsta | 1.29 seconds | 491 milliseconds $30 per month |
| Go Daddy | 0.8 seconds | 200 milliseconds $12.99 per month |
| WP Engine | 0.9 seconds | 245 milliseconds $30 per month |
| Bluehost | 0.8 seconds | 396 milliseconds $29.99 per month |
Features of EasyWP
* It is hosted on the hosting website cloud
* It is 99.99% Uptime
* EasyWP is faster shared hosting and other hosting service
* Free back up and restoration
* One clicks WordPress Installation
* 24 Hours support
* Available Knowledge Base
* Live Chat With Professionals
* Friendly Dashboard
* Scales effortlessly as visitors to website grow.
EasyWP Price Plan
The EasyWP plan are as follows.
EasyWP starter package is great for beginners who are following this guide step by step. As mentioned earlier, this WordPress tutorial on how to design your own WordPress website completely from scratch is to save you money and still get a quality site up and running.
To start, follow through the promo page to check the latest promo on EasyWP.
Currently, an EasyWP $1 per month promo is ongoing for all customers.
To get this package, follow the same step used above for shared hosting
How to Install Your Website on WordPress
WordPress host millions of website every day.
Installing your own WordPress website depends on your hosting company. I currently own ten hosting accounts with them.
Namecheap, as recommended, do not automatically install your WordPress for your website, but an installed softaculous software will solve that problem in one single click.
SIDE NOTE: At AFRIAKAQUALITY we have transparency. If you sign up with Namecheap using any of the links pointing on this website (Referral link), our company earn a small commission at no extra cost to you. Buying from Namecheap using our link will give you access to the FREE domain for one year (com, co.uk. org, xyz and many more) and you can buy your hosting with monthly payment or yearly payment. I recommend Namecheap cause I personally use it.
It is quite easy to install WordPress software on your new hosting account using SOFTALCULOUS software in your hosting account control panel.
Step One
Login to your website control panel (yourdomain.com/cPanel)
Step Two
Click on Softaculous App Installer as shown in the image above.
After clicking, you will be directed to various CMS. Choose the WordPress CMS, and from the list.
Step Three
Fill in the details with your domain name, chose the latest WordPress software update and Install.
After installation, you will be directed to a congratulations page.
A link to the backend of your WordPress website will be sent to you (https://examples.com/wp-admin).
This is the link you will use in building your WordPress site from the scratch or upload a demo site.
General WordPress Settings For Beginners
This aspect of your new WordPress dashboard is particularly important. The settings are divided into several aspects, and I will take you through each of them.
Step One
Login into your WordPress website dashboard using the link https://examples.com/wp-admin and navigate to "settings."
From the above, click on "General."
It is important to note that most of the heavy loading has been done by the WordPress team.
If you are a WordPress beginner, kindly follow the steps detailed below.
Site Title – This is the name of your WordPress website.
Tagline – The summary of what your WordPress website is all about.
WordPress Address (URL) and Site Address (URL) – This will help the site different from your WordPress directory.
It is also important you change the WordPress Address(URL) and Site Address (URL) from http://example.com to https://example.com
Administration Email Address – Your official email address to get information and errors about your WordPress website.
Membership – If you want people to register on your website to get more information about your goods or services.
Allow membership on your website if you want and leave unticked if you do not want membership on your website.
New User Default Role – This is where you automatically assign roles to new members or subscribers.
It should be left as subscribers.
Site Language – The language you desire.
I will assume you speak and write the English language if you are reading this article on designing your own WordPress website for beginners free.
Time zone – This should be changed according to your time zone.
Date Format – Change the date to any desired format.
Step Two
The next step is to click on "Writing."
Writing general settings should be left alone for all beginners.
Step Three
This next step will require a few changes depending on the WordPress website you would like to create or build for yourself.
The following guide will help you through this settings.
Your homepage display – This is the exact page your website is currently showing.
There are two options for your homepage display.
Your Latest Posts – This is the default option setting.
A static Page – If this option is selected, two options will be revealed.
The options revealed are;
Homepage – This will keep your front page to be your main homepage
Post page – This is the optional page to select if you want your visitors to be referred to your blog page or any other page.
Blog Page Show at most – 10 Posts
Syndication feeds show the most recent – 10 items
For each post in a feed, include – Choose Summary
Search engine visibility – Leave unchecked
If you tick this option, Google will not index your website.
Step Four
Setting the "Discussion" is simple. The image below will show you exactly how to go through this settings effortlessly.
Click save changes to save this settings.
Step Five
The "Media" settings should be left exactly the way it was.
Step Six
The Permalinks settings allows you to choose the permalink structure for your WordPress website. This is an important setting because it controls the look and feel of your WordPress website.
WordPress for Beginners User Profile
On WordPress, Users can edit their profile.
The User Profile setting has a lot of preference that can be of use in further customizing how the backend and other admin settings look like.
Information such as email address, social media handles, site editor, admin colour scheme, your details as the site owner and security to your information.
In order to set your personal WordPress profile as a beginner, click on User >> Profile
The user profile is divided into six sections.
Personal Option
Personal Option includes the following.
Default Editor
User have a choice of the Classic Editor or Block Editor.
I personally use the block editor.
Visual Editor
This should be left unchecked.
Syntax Highlighting
Should be unchecked.
Admin Color Scheme
This will give a different feel to your WordPress website backend.
I use the "Midnight" option.
Keyboard Shortcuts
Unchecked
Toolbar
It is an important option to check.
Name
All users have to fill in the WordPress website owner information.
Username
The desired name you wish to log in to your website. This will be set when you are installing your WordPress website using the software softaculous that was mentioned earlier in the article.
First Name
Your desired first name or the name of the organization you are setting it up for.
Last Name
This is optional like any other settings here on how to fill your WordPress profile, but still necessary to fill in even your last name or the name of the organization.
Nickname
This is required. When you are done creating a WordPress page or a WordPress post, what appears to all reading or viewing is the nickname set on the profile page.
Display Name
Click on the dropdown to see the display name generated for you.
Contact Info
This section allows you to integrate your social media handles like Facebook, Instagram, YouTube, Soundcloud and etc.
About Yourself & Account Management
Users are allowed to fill in their biography, profile picture and password management setting from the backend.
How to Add New User on WordPress
Another fantastic way of getting free unique content is allowing your website to be used for a guest post.
In order to start adding users, the following steps should be followed.
Step One
Navigate to your dashboard and click on User >> Add New
Step Two
A new header with "Add New User" with all info required to be filled.
Finally, click on the add new user button.
How to Create a Page on a WordPress Website
Creating your own WordPress website gets easier with pages and post created on the website for people.
In order to get started with a new WordPress page, the following steps will guide you through.
Step One
Navigate to your WordPress website dashboard
Step Two
Click on the "Add New" under page menu
Step Three
An editor page will appear. You can continue to create your page using the block editor or classic editor.
Step Four
Add a Page Title. In this case, you can create your own Homepage by labelling the page title "Home."
Step Five
Immediately after writing your Page Title, you can start writing or create more blocks to customize your page.
It is important to note for all beginners before you start to design your own WordPress website, take time to go through the terms shown in the image below.
WordPress Document Settings
On the right-hand side of your WordPress page editor, you will find your page or document settings.
Status & Visibility
The status and visibility section controls how you want your page to be viewed.
Public – Everyone has the access to view this page and it's content
Private – Only administrators and editors are allowed to view
Password – Only viewable via password
Schedule WordPress Page
Scheduling a WordPress page can be done via public settings.
If you want to publish your page on WordPress, just click on publish without changing the publish settings.
To schedule a post, click the Pubic >> Immediately. A calendar will pop up for you to choose the date and time for your page to be published.
Permalinks
This section is used to customize the URL of your page or post.
Featured Image
Upload the image that describes the page or post.
Discussion
The discussion settings controls if you would like comment turned on or off for the page or post.
Page Attribute
This section you can apply a parent page and template to a new page of your WordPress website.
Save Draft
As you round up your WordPress page or post, you can save the page or post if you would like to add a few more stuff to the page or post before publishing live.
Preview
This is to preview the page before letting it publish.
All WordPress user can preview with different devices such as.
The first two pages to create for all beginners who are about to use this tutorial to create or design their first WordPress website are the home page and blog page.
How to Add Theme to Your WordPress Website
The visual appearance of your WordPress website/blog is controlled by the type of theme you use. It is important to choose a theme that will help you in the niche you want to start writing about.
After installing WordPress on your blog, a WordPress theme "Hello World" is preinstalled. Your frontend will look like this.
This is ugly right? How do we make this right? Well, its simple! The following steps is to change the themes to whatever demo or preinstalled WordPress theme that suite your niche.
Step 1
Go to the backend of your WordPress blog, and click on "Appearance". Drag your mouse to Theme and click.
Step 2
Click on Add New.
Step 3
You can upload a theme of your choice or you install WordPress Pre-installed theme as shown below.
Upload your own theme or search for a theme that suite your niche.
Contact Info
You can preview your site once its activated.
How to Add a WordPress Plugin to Your Website
Plugins makes WordPress looks good.
If you are using www.wordpress.com, then you might have some restrictions to how much plugins you might use or if it shows at all on your dashboard.
But, if you are using www.wordpress.org, you will get the freedom to control your WordPress backend and design of how the WordPress website will look like.
There are two ways to install plugins on your WordPress website.
Premium Plugin Installation
Free Plugin Installation
Step One
Go to your WordPress dashboard and click on Plugin.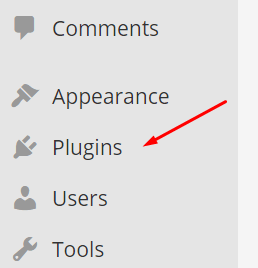 Step Two
Click on the "Add New" button

Step Three
Go to your WordPress search directory to search for the plugin of your choice.
I will be using "Revive Old Post" as an example.

Step Four
Once the desired plugin appears, click on "install now."
Step Five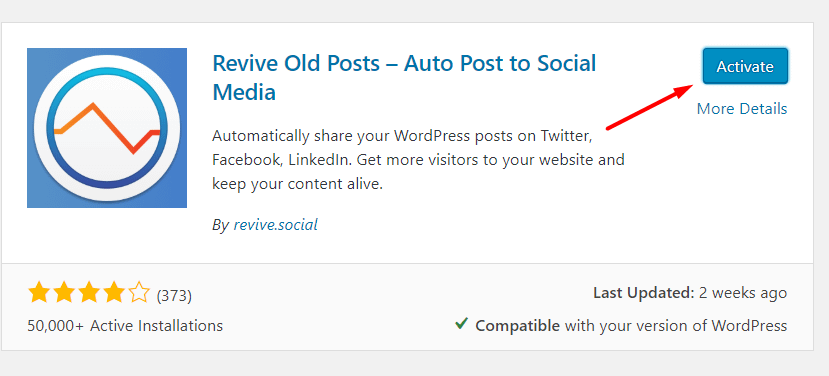 After installation is complete, click on activate.
Premium or Paid WordPress Plugin Installation
Installing a paid or a premium WordPress plugin is a bit different.
Paid or Premium plugins are not available on you WordPress directory.
The following steps should guide you on how to install a paid or premium WordPress plugin.
Step One
Download the plugin archive.

Premium plugins are always in a zip file. A good example is FEEDZY WordPress plugin.
Step Two
After the zip file download, navigate back to your WordPress dashboard.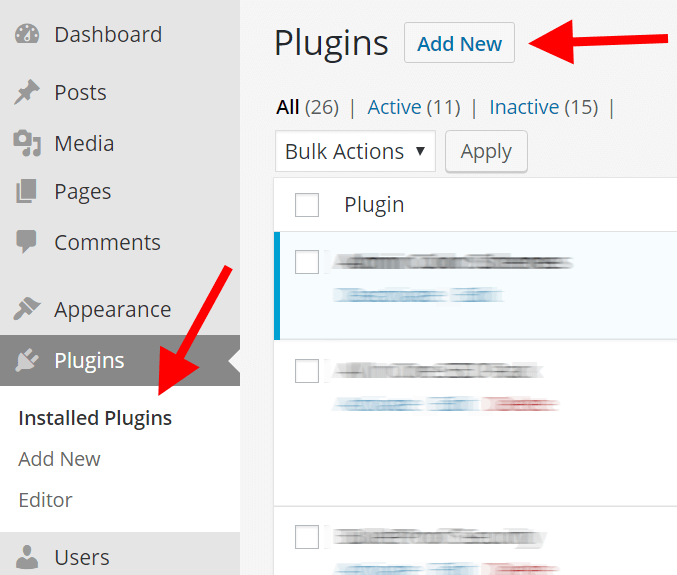 Step Three
Click on upload plugin.

The zip file will be uploaded to your site and you can confirm the plugin only after the upload is complete.
Step Four
Activate your plugin immediately after installation is complete.

Top Five WordPress Plugin For Beginners on How to Design a Website From Scratch
There are thousands of plugins in the WordPress directory.
As a beginner learning how to design you first WordPress website sing this tutorial, I will make recommendations on which plugins are useful to you regardless of the website you are building from the scratch.
These are free plugins vital to any WordPress website you would like to create for yourself. Also, it is important to know these plugins have different functions in customizing your WordPress website.
It is important to learn how these plugins work in order to know how to design your own WordPress website from the beginning.
Yoast SEO
This is the most popular search engine optimization plugin in WordPress. Yoast SEO helps to optimized blog or websites for Google search engine.
While working with Yoast, it guides your post to be suitable and tells exactly what is needed for Google to rank the post easily.
Yoast SEO is not just an optimized WordPress plugin, it is upgraded to do other plugins functions like internal linking suggestion, redirection, duplicating page and post and more.
The search engine optimization plugin also has its premium version and other ad-on like Yoast WooCommerce, Yoast Video, Yoast News and Yoast Local.
Alternatives to Yoast SEO is Rank Maths Plugin, Squirrely and All in One SEO
Sassy Social Share
While you are new to blogging, the easiest way to get your first traffic is constant sharing through social media.
Content is king, right? With Sassy Social Share, you are good to go with your contents shared unlimited times.
Sassy Social Share has features to integrate all social media platform with just a single click. The premium version is fantastic with new features added, but as a beginner, or an average user, using the free version is good enough.
WP Super Cache
If you are new to WordPress, you might have not heard of the word cache.
A cache is a software or hardware item reserved storage that collects data temporarily to help apps, browsers and websites load quicker.
So, if your website is slow, you might be missing the cache plugin. One of the trusted cache plugins in the WordPress market is WP Super Cache.
The plugin helps your website or blog to speed up and increase performance. You can check how the plugin helps speed up your website or blog by using free tools to check such as Gmetrix and Google developer speed check.
WP super cache create static file to help speed up the page instead of rebuilding page view one by one.
Alternatives to WP Super cache are WP rocket, WP cache and Hummingbird
WP Rocket
This is one of the easiest plugins to use. WP rocket performs multiple functions and integrates other plugins easily.
WP rocket automatically speeds up your blog once it activates. The plugin will immediately improve your page load time and clear your cache depending on your settings.
The plugin is integrated with other features like Import and export functionality, Gzip compression, Lazy load, CDN (Cloudflare), page caching, pre-cache and more.
The premium version for WP rocket is packed with extended features like minifying java scripts and integrating content delivery network.
For a single website, retails at $49USD for one year and $99USD for three websites while $249USD is for an unlimited number of blogs or websites per year.
Alternatives to WP rocket are WP Super cache, Auto optimize and SiteGround`s super cache
Contact 7 Form
Visitors on any website will navigate to the contact immediately they have a question about the product or services.
Contact 7 form is a great plugin for beginners to integrate their contact forms or contact details.
The plugin is very easy to set up and its integration into WordPress CMS is easy.
This plugin is highly recommended for beginners because of its user-friendliness.
Other alternatives to contact 7 forms are.
Ninja forms, Happy forms, Contact form and Formidable forms.
These plugins can be installed via the WordPress directory if you are using www.wordpress.org. Also, if you want premium themes and plugins, click here.
Optimizing Your Website with Search Engine Optimization
SEO stands for search engine optimization. It is one of the most important aspects of building a successful internet business.
If you want to get top rankings on Google and other search engines, you need to learn SEO.
Search engine optimization has changed the way people think about online marketing. It is no longer considered something reserved for high-priced SEO agencies and gurus.
Search engine optimization is actually the process of enhancing the volume and quality of site visitors to a site or a particular web page by search engines.
SEO targets free traffic rather than paid or direct traffic.
There are two objectives behind this: first, to improve the quality of site traffic, and second, to increase search engine ranking. When the number of site visits and searches increases, the number of potential customers or clients increases as well.
Hence, it goes without saying that the number of sales and clients will also grow.
However, even before you start with search engine optimization, you need to be aware of some basic principles and learn how they can help you with your online marketing endeavour.
Search Engine Optimization Principle
First, you must know that content is king. You cannot survive a day without a good website with valuable information.
Second, know your audience. This is one of the most vital aspects of search engine optimization. Know who your potential clients are and what their needs are.
Make a study of what your targeted market wants and look for products or services that will meet these needs.
Third, optimize the Meta tag, title, images, and keywords in your web pages. These will all have an impact on the ranking of your pages in search results.
The use of proper keywords will not just make your site more popular, but it will also make it more visible in search engines.
Keywords in the Meta tag should be unique and informative enough to get the attention of your readers. Also, your keywords must relate to the topic or theme of your site.
The use of keywords in web pages also plays a vital role when it comes to search engines.
A site with poor content will most likely fail to rise in ranking. Moreover, your keywords should be the most relevant ones for your business. They must be able to draw traffic from search engines to your site.
Although Search Engine Optimization is not an easy task, you can be assured that it will greatly improve the ranking of your web pages.
There are many ways on how to do this, such as hiring a professional SEO company or doing it yourself but doing it the right way is always best.
Conclusion
Authenticity matters when it comes to business or a side hustle like affiliate marketing. Having your own website is unusual few years ago, but with the right tools and new CRM like WordPress, it has never been this easy to build your own website as a beginner from scratch using simple tutorials.
As a beginner, this comprehensive guide will definitely help you learn how to design your own WordPress website from scratch.
Finally, learning how to use different plugins for customization and other tools to promote your website is also very important. So, take time to follow through and read more of our post on how to optimize and bring traffic to your website.